BETH HALE
Partner and General Counsel
Beth Hale is a Partner specialising in employment and partnership law and also acts as General Counsel for the firm.
Beth is extremely well-regarded and has a particular strength in explaining and simplifying complex legal concepts. Valued by clients for her ability to give "clear and succinct advice" (Chambers and Partners), she has significant experience advising employers and employees on all aspects of employment law. Beth provides day to day advice on HR and management issues, including drafting contracts and restrictive covenants, managing sickness absence, disciplinary and grievance procedures, whistleblowing issues and performance management. She has extensive experience advising corporate clients on the employment aspects of mergers and acquisitions, restructurings and outsourcings, including frequently in relation to cross-border issues involving multiple jurisdictions. Beth is often instructed in relation to senior departures by both senior executives and employers. She is also experienced in representing clients in litigation in both the Employment Tribunal and the High Court.
In addition, Beth advises partners, partnerships, LLP members and LLPs on a wide range of issues including partner exits, discrimination, whistleblowing, expulsion and enforcement of restrictive covenants.
She has advised clients in a number of sectors, including financial services, rail, charitable, retail and hospitality, accountancy and legal.
In her role as General Counsel for the firm, Beth is responsible for ensuring technical excellence at the firm and manages training and knowhow as well as compliance. She regularly prepares and delivers training to clients and colleagues in relation to a wide range of issues and also provides training on behalf of the Employment Lawyers' Association.
Beth also serves on the Advisory Board of the Rights of Women Sexual Harassment at Work legal advice line for women.
Beth was admitted as a solicitor in England and Wales in February 2004.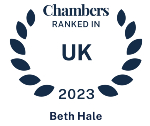 Chambers and Partners UK 2023 ranked Beth in Band 3 for Employment (Senior Executive), "Beth is also extremely reliable, practical and competent. She gives quick advice in the employment field."
Beth is ranked in Band 4 for Partnership (Contentious) for her extensive experience advising professional partnerships and individual partners on contentious matters.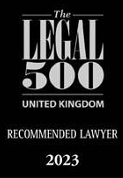 Legal 500 UK 2023 recognises Beth as a "Key Lawyer" for her work in Partnership law.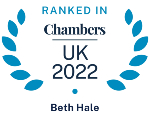 Chambers and Partners UK 2022 ranked Beth in Band 3 for Employment (Senior Executive) and as a "Notable Pracitioner" in both Employment (Senior Executive) and Employment (Employer). "She is clear, she is sensible in her advice and she is calm." "She has built a reputation as a thought leader in employment."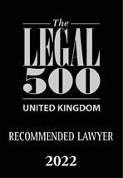 Legal 500 UK 2022 recommended Beth as a "Key Lawyer" in  both Employment (Employers) and Employment (Senior Executives). "Beth Hale is also an extremely talented lawyer – she has a no-nonsense straightforward approach with clients and always goes the extra mile to get things done. Again, a very knowledgeable and approachable individual to work with.' She is also described as "…absolutely skilled and intelligent." 
Beth is recommended as a "Global Leader" by Who's Who Legal Labour and Employment 2021.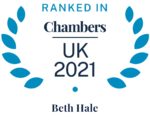 Chambers and Partners UK 2021 ranked Beth as Band 3 for Employment (Senior Executive) and is described as "absolutely excellent", "fantastically knowledgeable and always able to see the bigger picture" and "very responsive."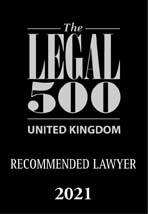 Legal 500 UK 2021 recognises Beth as a "Key Lawyer" for Employment (Senior Executive).
Beth was noted for her Partnership (Contentious) work by Legal 500 2020. Beth was also recommended as a "Global Leader" by Who's Who Legal Labour and Employment 2020.
RECENT MATTERS
Partnership
Advising an international law firm on dealing with and investigating allegations of bullying, harassment, and discrimination.
Advising a partner in a private equity firm on her exit and potential claims of whistleblowing and discrimination.
Advising a partner in a major law firm on responding to allegations of sexual harassment made against him.
Advising a partner in a major city firm on their rights and obligations following summary expulsion from the partnership.
Senior Executive
Advising a senior fund manager on the enforceability of her restrictive covenants when she moved from one employer to another.
Advising a US-based senior executive on the terms of his non-executive directorship with a UK company.
Advising a senior asset manager on her potential claim for discrimination following the rejection of a flexible working request.
Advising the founder of a private equity backed company on potential disability, age and sex discrimination claims arising from her forced exit.
Employer
Advising a UK law firm on HR issues, including furlough, redundancy, performance management, and absence management.
Advising a major US law firm on defending discrimination claims brought by two separate employees.
Advising a US luxury brand on HR issues arising in its UK branch, including processing covid vaccination data and a potential claim for sexual orientation discrimination.
Advising a UK employer on carrying out a performance management process for a member of staff with serious mental health issues.
Advising a major law firm on issues around associate remuneration and enhanced maternity pay.
Advising a multinational employer on managing an investigation into allegations of misconduct, including whistleblowing and race discrimination.
Advising an investment management company on defending a claim of unfair dismissal.
Delivering bullying and harassment training to a large London law firm.
Professional Discipline 
Advising a partner at a large international law firm who was the subject of serious allegations of sexual harassment on a negotiated exit from the firm.
Advising a partner in a city law firm on managing historic allegations of sexual harassment and working with him to ensure he complied with his partnership obligations on joining a new firm.