David Fisher is a Partner specialising in employment and partnership law.
David has a wealth of experience advising major global corporations and senior executives on a wide variety of employment law issues. David has a vast amount of heavy duty litigation experience as well as extensive experience in business restructurings and transfers (including TUPE issues).
David advises on partner team moves and lateral partner hires and enforcement of partner restrictive covenants.
David specialises in High Court injunctions, advising on enforceability of restrictive covenants, team moves and executive terminations.
David was admitted as a solicitor in England and Wales in December 1993.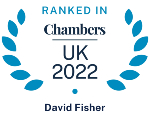 Chambers and Partners UK 2022 ranked David in Band 3 for Partnership – Contentious and he is noted as being "…an extremely able and subtle solicitor" who "…is prompt, a good communicator and has a good understanding of the issues involved in the case." David is also named a "Notable Practitioner" for his Partnership – Non-Contentious expertise.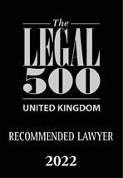 Legal 500 UK 2022 named David as a "Recommended Lawyer" for Partnership.
David is ranked as a "Thought Leader" by Who's Who Legal Labour and Employment 2021.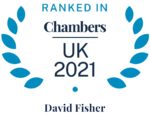 In Chambers and Partners UK 2021, David is ranked as Band 3 for Partnership (Contentious), described as "exactly who you want to fight your corner."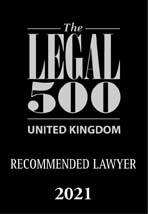 In Legal 500 UK 2021, David is recognised as "Key Lawyer" for Partnership (Contentious), Employment (Senior Executives) and Employment (Employers).
David is noted as a "Recommended Practitioner" for Partnership (Contentious) by Chambers and Partners UK 2020.
In Legal 500 UK 2020, David was recognised for Partnership (Contentious) and Employment (Employers), described as 'focused, aggressive but never uncommercial. Excellent at what he does.'
David was also named as an "Expert" in Labour and Employment law by Who's Who Legal Labour and Employment 2019 
REPUTATION, NOMINATIONS AND AWARDS
Standout practitioner, with experience of partner team moves and the cross-border enforcement of restrictive covenants. (Legal 500 UK 2021)
Legal 500 2016
The Legal 500 2016 names David Fisher for his employment law work, noting that he "specialises in High Court injunctions"
Legal 500 2015
David Fisher is described as "the epitome of professionalism"
Chambers & Partners 2010
David is described as "a leading authority figure on employment matters regionally and nationally".
RECENT MATTERS
Partnership Law:
David advised a departing partner who was being threatened with injunction proceedings in the High Court to enforce extremely onerous restrictive covenants against him.
David represented an Eastern Europe based partner team governed by English law partnership terms, in cross-border litigation arising from their team move.
David advised a US law firm on their acquisition of a high profile partner team.
David advised on the TUPE and restrictive covenant issues arising from a law firm's acquisition of a team of associates and a salaried partner, as part of a partner team move.
David advised a high profile professional services firm on the modernisation of their LLP terms, including restrictive covenants.
Employment Law:
David assisted a US law firm whose US based client was considering the purchase in a pre-pack arrangement of a business in the UK which was in administration. The matter involved complex TUPE issues.
David advised a US technology business on the protection and recovery of its confidential information following breaches by a departing employee.
David represented an inter-dealer broker in his appeal to the Employment Appeal Tribunal regarding the non-payment of a guaranteed bonus by his former employer following his resignation to join a competitor.
David advised a leading industry figure on his appointment as the CEO of a global telecoms company, and assisted in the negotiation of his new terms of employment.
David advised the departing CEO of a premier league football club in a high profile case with substantial media interest.
Pro-Bono
David provides ongoing legal advice and support to leading UK whistleblowing charity Public Concern at Work.  He is currently representing them in relation to the proposed intervention in the Court of Appeal in Chesterton Global Limited v Nurmohamed. This is the test case in establishing the meaning of "in the public interest" inserted into whistleblowing legislation in 2013.  David also advised in the intervention in the Supreme Court case Clyde & Co & anor v Bates van Winkelhof, which determined that LLP members are workers for whistleblowing and related worker protections.