Emma Bartlett is a Partner specialising in employment and partnership law. Emma is also D&I lead at CM Murray LLP.
Emma advises on a varied cross-section of employment law matters, including unlawful discrimination, whistleblowing, equal pay, unfair dismissal, breach of contract, restrictive covenants, protecting confidential information, boardroom and partner disputes and claims under TUPE. She has particular expertise in dispute resolution and litigation, notably discrimination, bonus, whistleblowing and trade union issues. She is a specialist in contentious discrimination matters and handling high-value contentious claims for employers and senior individuals.
Emma acts for employers, senior executives, partners, partnerships, LLP members, LLPs and trade unions/associations. Her broad client base spans several key sectors, including financial services, professional services (including legal and architectural), surgical, pharmaceutical/biotech and design/media. Amongst these clients are a number of growing, dynamic businesses (including UK start-ups), as well as long-established financial institutions.
As a litigator, Emma's knowledge is underpinned by a strategic approach to negotiations – representing clients in the High Court and in tribunal cases, including in obtaining, executing and defending interim injunctions against former employees alleged to have breached confidentiality provisions.
Emma regularly speaks on diversity and inclusion issues, and is editor of Employment Precedents and Company Policy Documents published by Thomson Reuters. Emma frequently publishes articles in relevant trade publications and the national press and most recently has spoken on BBC Radio 4's Today Programme, LBC and BBC regional news on issues faced by firms during the pandemic.
Emma was admitted as a solicitor in England and Wales in September 1999.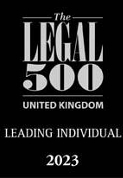 Legal 500 UK 2023 ranks Emma as a "Leading Individual" in Employment (Senior Executives), she is recognised as "A solid and well-respected employment lawyer who will get things done when under pressure." "Emma is also highly recommended for supporting partners and senior executives in disputed exits."
Emma is also recommended as a "Key Lawyer" in Partnership law.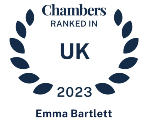 Chambers and Partners UK 2023 ranked Emma in Band 4 in Employment (Senior Executives), "Emma is supportive, empathic and attentive. She really cares about her clients and goes the extra mile to secure the right outcome for them." She is recognised as "An astute lawyer who navigates sensitive subject matters with apparent ease."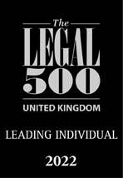 Legal 500 UK 2022 ranked Emma as a "Leading Individual" and recommended her as a "Key Lawyer" in Employment (Senior Executives). "Exceptional in understanding the case details and bringing up the points that matter for winning. I had already been denied any chance of success during a painful and very stressful experience in facing a planned discriminatory dismissal. I was helpless, but I was very lucky to be introduced to Emma Bartlett. Her merit assessment was completely different from all others before, because she was very capable in exposing the true events beyond doubt amazingly from their own witnesses. Emma is extremely honest, truly a warrior to bring justice and never deterred. I admired her courage with her foresight of the sequence of events and forewarning in terms of time and cost.'
Emma is recommended as a "Global Leader" by Who's Who Legal Labour and Employment 2021.
RECENT MATTERS
Partnership
Advising a partner on his obligations on exit from one firm and post-termination restrictions, and offer to join another firm as a member of an LLP. Adherence to post-termination restrictions represented a high litigation risk and potential loss of significant deferred equity.
Advising a law firm partner in respect of their grievance and negotiated exit from a global legal firm.
Advising a law firm partner in respect of serious allegations of misconduct and agreeing terms of exit with a global firm.
Advising a partnership on alternative dispute resolution following retirement of an underperforming partner whose conduct was in breach of his obligations to the partnership.
Advising a private equity LLP on the exit of a senior employee seeking partnership.
Advising a senior member of a private equity LLP on his retirement from the partnership and vesting of his carry.
Advising a new LLP on worker structure and putting in place relevant documentation for workers, consultants, and employees.
Advising an LLP member on the enforceability and scope of his post-termination restrictions in the LLP agreement, and equity plans, focusing on a detailed assessment of the post-termination restrictions from a legal perspective, as well as considering the client's strategic and commercial options. Emma is simultaneously advising the client on an offer to join a competitor, which includes a significant guarantee.
Senior Executive
Advising two senior executives on their exit from a multinational wealth management firm, with a view to establishing their own business together.
Advising a senior executive of a global leadership advisory firm in relation to a grievance and investigation, and advising on the terms of their departure satisfactory to them. The matter became urgent due to the dual, conflicting objectives of both the executive and the employer, and the need to protect reputation.
Advising a senior executive on the implications and resolution of a public disclosure of serious bullying allegations.
Advising a senior executive of a public institution regarding allegations of serious bullying and harassment of colleagues, following a detailed investigation by an independent investigator appointed by the institution.
Advising a consultant general surgeon on a claim for age discrimination, constructive unfair dismissal, and breach of contract against an NHS Trust (and age discrimination against his manager).
Employer
Appointed as independent investigator into allegations of gender discrimination, interviewing multiple witnesses and producing a report with detailed recommendations.
Advising a global investment management firm in connection with the proposed redundancy and overlapping grievance of a senior individual.
Advising a leading, multi-national on the removal of senior individuals, including a board member, in light of serious performance and behavioural concerns.