Sarah Chilton is a Partner specialising in partnership and employment law. She is qualified to practice in England & Wales, in Scotland and in Ireland and has represented clients in both the English and Scottish Courts.
Sarah advises partners, partnerships, LLP members and LLPs on a wide range of issues. She has extensive experience advising in relation to partner investigations and disciplinary matters including allegations of misconduct and sexual harassment, often engaging both regulatory and criminal issues and with the possibility of expulsion. She frequently assembles, and works with, multi-disciplinary teams including other specialist advisers on these matters.
She advises regularly on expulsion; rights in relation to discretionary decision making; partner exits; remuneration structures and disputes; breach of duties; restrictive covenants; team moves and dissolution of partnerships. Much of her work involves contentious partnership and LLP matters, acting for individuals and firms, and her work frequently involves cross-border partnership matters engaging multiple jurisdictions. As an employment and partnership lawyer she has particular expertise in the cross-over of these disciplines which arise in relation to whistleblowing, discrimination and harassment issues as they relate to partners and LLP members.
Sarah has an excellent reputation for providing pragmatic legal advice to employers and senior executives on a wide range of issues. She has particular expertise advising in relation to business protection issues, including post termination restrictive covenants and protection of confidential information – drafting, defending and enforcing provisions – for employers and executives. She also advises on remuneration structures and issues arising in relation to deferred remuneration and incentive plans, in particular representing senior executives in relation to these rights, and disputes arising from these rights.
She provides advice on whistleblowing issues, in particular within the financial services sector, and discrimination and harassment issues for senior executives.
Advising employers, she regularly advises on issues around business reorganisation and redundancy, conduct and performance issues, whistleblowing and discrimination.
Sarah is often instructed in relation to confidential and sensitive matters including in relation to the exit of senior executives and partners for both employer, firm and the senior individual.
Sarah has a particular interest in advising clients in the legal and professional and financial services sectors advising law firms, their partners, fund managers, partners and firms. In the financial services sector she has particular experience of issues arising when someone joins or leaves a fund or financial institution, remuneration structures (including incentive arrangements and carried interest and good leaver/bad leaver provisions), and post termination restrictions.
Sarah regularly advises on cross-border issues involving multiple jurisdictions including the US, Russia, the Middle East and Europe and the Scottish law implications relating to funds using Scottish partnerships structures.
Where litigation is necessary, she is experienced at representing clients in the Employment Tribunal and High Court (and equivalent Scottish Courts) and has conducted her own advocacy.
Sarah was admitted as a solicitor in England and Wales in October 2010.
Sarah is ranked as a "Thought Leader" by Who's Who Legal Labour and Employment 2021.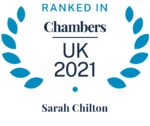 Sarah is ranked by Chambers and Partners UK 2021 as Band 2 for Partnership (Contentious) and Band 3 for Employment (Senior Executive), described as "very strong on partnership and very strategic" and "incredibly focused on the interests of her clients and goes the extra mile."
Sarah is "extremely personable; an expert in her field with depth of experience." "She's a superb lawyer." "She is incredibly focused on the interests of her clients and goes the extra mile."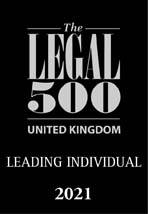 In Legal 500 UK 2021, Sarah is ranked as a "Leading Individual" for both Partnership (Contentious) and Employment (Senior Executive), 'Sarah Chilton is exceptional. Very easy to deal with. Gives straightforward and practical advice. You trust the advice you are being given and it is well thought through and practical.'
In Legal 500 UK 2020, Sarah was recommended for Partnership (Contentious) and Employment (Senior Executives), described as 'comprehensively prepared, determined and with her clients all the way. A very skilled practitioner.'
Sarah is recommended as a "Global Leader" by Who's Who Legal Labour and Employment 2020.
Sarah also serves on the Advisory Board of the Rights of Women Sexual Harassment at Work legal advice line for women.
Chambers and Partners UK 2020 ranked Sarah as "Up and Coming" for both Partnership (Contentious) and Employment (Senior Executive). She is noted for being 'adept at handling contentious partnership matters, including disputes over serious allegations of misconduct, discrimination or harassment. One source remarks: "She took a pragmatic approach to each situation and was always able to discuss our next steps with both the bigger picture and the granular detail in mind."'
Sarah 'is increasingly recognised for her work representing individuals in investigations and disciplinary proceedings, as well as regularly advising on restrictive covenants. Clients describe her as "highly professional, engaging and knowledgeable."'
Sarah was named as an "Expert" in Labour and Employment law by Who's Who Legal Labour and Employment 2019 
REPUTATION, NOMINATIONS & AWARDS
"a thought leader in discrimination and whistleblowing." (Legal 500 UK 2021)
Chambers & Partners 2019
Sarah Chilton is named as an "Up and Coming Lawyer" and is "praised by sources as a "really impressive" lawyer who is "extremely knowledgeable."
Legal 500 2018
Sarah is recognised as being a "tough yet pragmatic opponent".
POSITIONS AND MEMBERSHIPS
Member of the Management Committee of the Scottish Discrimination Law Association
Treasurer of the Society of Scottish Lawyers in London
Member of the Association of Partnership Practitioners
Member of the American Bar Association
Member of the Employment Lawyers Association
Member of the Law Society of Scotland
Member of Employment Law Group Scotland
Member of the International Bar Association
Member of the London Solicitors Litigation Association
Member of the European Employment Lawyers Association
Notary Public (Scotland)
Chair of Innangard
Member of the Advisory Board of the Rights of Women Sexual Harassment at Work Legal Advice Line
Forbes online contributor
RECENT MATTERS
Sarah has extensive experience in advising on English and Scottish partnership and employment law issues.
Sarah's recent issues and matters include:
Advising a law firm in relation to the carrying out of an investigation into allegations of sexual harassment and misconduct
Advising a law firm in relation to issues relating to maternity and pregnancy discrimination
Advising a hedge fund manager in relation to a whistleblowing claim and wider partnership dispute
Dissolution of a traditional partnership based on allegations relating to conduct of one or more partner
Advising prospective new employer on the seeking of a declaration relating to potentially unenforceable restrictive covenants
Advising on a large team move in the legal services sector
Advising a multinational employer in relation to employment law compliance for atypical workers, performing services across multiple jurisdictions and living outside the UK
Advising a law firm partner of a UK law firm based outside the UK in relation to partnership rights, including in relation to discretionary decision making, whistleblowing, disability discrimination and allegations of poor performance
Providing training to law firms in the UK on issues including partner duties, harassment and equality and diversity
Advising on and drafting terms for senior executive in particular focussing on post termination restrictive covenants and termination provisions