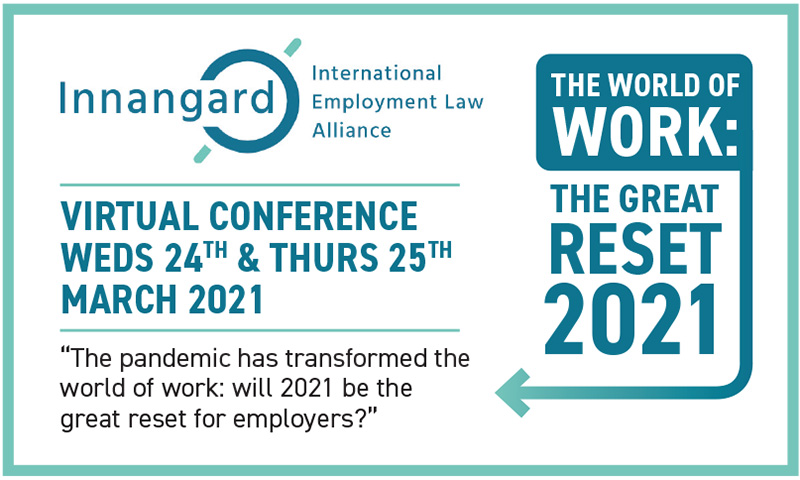 The pandemic has transformed the world of work: will 2021 be the great reset for employers?
Innangard held its first virtual conference on 24 and 25 March 2021, bringing together six international panels of distinguished speakers that included leading scientists, politicians, in-house professionals, global HR and employment law experts, to share insights and discuss how the world of work and their organisations have adapted and will develop in 2021.
Please find below more details and the podcasts recordings from the conference:
Wednesday 24 March
Social Movements Impacting the World of Work

Schona Jolly QC, Barrister – Human Rights, Cloisters, UK
Ma Eugenia Gay Rosell – Dean of the Barcelona School of Law and Chair of the Barcelona Bar Association, Spain
Beth Hale, Partner and General Counsel, CM Murray LLP, UK
Rohan Burn, Senior Associate, People + Culture Strategies, Australia (Chair)
Coronavirus Vaccine – Impact on the Workplace and Employment Law Implications

Cathy Qu, Vice President/Senior Partner, River Delta Law Firm, China
Professor Fabrizio Pregliasco, Virologist, Department of Biomedical Sciences for Health, University of Milan, Italy
Professor Luke O'Neill, Professor of Biochemistry in the School of Biochemistry and Immunology at Trinity College Dublin, Ireland
Lorna Gibb, Nokia Global Head of HR Legal and Employee Relations, UK
Dr Katharina Hauck, Reader in Health Economics and Deputy Director of the Abdul Latif Jameel Institute for Disease and Emergency Analytics (J-IDEA), School of Public Health, Imperial College London, UK
Carl-Fredrik Hedenström, Partner, Morris Law, Sweden (Chair)
Cyber Security, Monitoring and Remote Working – An In-house Perspective

Chris van Schijndel, Director of Cybersecurity, Johnson & Johnson, USA
Sheridan Mather, Head of Talent and Culture Europe, Russia and Middle East, BBVA, UK
Dr Stephan Pötters, Attorney at law, Counsel, Seitz Partners, Germany
Nadine Zacks, Partner, Hicks Morley, Canada
Pia Sanchez, Senior Consultant, CM Murray LLP, UK (Chair)
Thursday 25 March
Equal Pay – How Far Have We Come or Are We Going Backwards?

Ivana Bacik Labour Senator, Seanad Group Leader and Spokesperson on Children, Disability, Equality and Integration, Ireland
Claire Darwin, Barrister, Matrix Chambers, UK
Regan O'Driscoll, Partner, CC Solicitors, Ireland (Chair)
Whistleblowing in the Time of COVID – Disclosures Arising Out of COVID-19

John Devitt, Chief Executive Officer, Transparency International, Ireland
Mary Inman, Partner, Constantine Cannon, USA
Jean Ewang, Consultant, Cliffe Dekker Hofmeyr Inc, South Africa
Mathilde Houet-Weil, Avocat à la Cour, Weil & Associés, France (Chair)
The Future of Work – Remote Working and the Right to Disconnect – the HR Perspective

Leyla Nematollahi Esmaili, HR Leader Southern Europe, GE Renewable Energy, Spain
David Yewdall, Partner, Smith & Williamson, UK
Dr Laura Bambrick, Social Policy Officer, ‎Irish Congress of Trade Unions, Ireland
Colleen Cleary, Principal and Founder, CC Solicitors, Ireland (Chair)