Andrew Pavlovic is a Partner specialising in SRA professional discipline and regulatory investigations.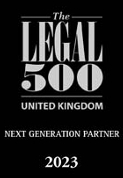 Recognised by Legal 500 UK 2023 as a "Next Generation Partner" in the field of professional discipline, Andrew has substantial regulatory experience, having acted for the Solicitors Regulation Authority ("SRA") at his previous firm for several years in complex disciplinary proceedings before the Solicitors Disciplinary Tribunal and subsequent appeals to the High Court.
Andrew was also recognised by Legal 500 UK 2021 & 2022 as a "Rising Star".
In addition to representing the SRA in disciplinary proceedings, Andrew has experience of acting for the SRA in obtaining injunctions, including in the high-profile case of The Law Society (Solicitors Regulation Authority) v Dixit Shah (AKA Sanjay Shah) [2014] EWHC 4382 (Ch), which has been described as "unprecedented" and "ground-breaking" by the legal press.
Andrew's exposure to the methods of the SRA and their approach to cases puts him in a strong position when advising both firms and lawyers who are subject to such investigations. He advises both individuals and firms subject to regulatory investigations on their duty to comply with investigations, the obligation to self-report, and negotiating settlement agreements with regulators.
Andrew also has strong expertise in commercial litigation. He has acted for a wide range of clients, including law firms and partners, high-net-worth individuals, companies, charities and regulators. He has considerable experience in civil fraud cases involving injunctive relief and is a member of the Commercial Fraud Lawyers Association. He also advises on defamation and reputation management issues, contractual and financial disputes, and professional negligence claims.
Andrew edited the "Lawyers Liability" chapter of The Law of Legal Services and Practice (2nd edition).
Andrew was admitted as a solicitor in England and Wales in September 2010.
REPUTATION, NOMINATIONS AND AWARDS
Andrew Pavlovic's specialism in SRA regulation and professional firm disciplinary matters places him at the heart of the thorny issues facing many professional firms. (Legal 500 UK 2023)
RECENT MATTERS
Professional Discipline
Represented a veterinary surgeon resident overseas in a 3-day hearing before the Royal College of Veterinary Surgeons Disciplinary Committee.
Advising a law firm partner accused of sexual misconduct regarding self reporting obligations and a potential SRA investigation.
Advising a large commercial organisation regarding its in house legal function and whether the same in house team can advise different subsidiaries of the organisation without infringing the SRA's rules on conflict of interest/confidentiality.
Providing ongoing advice to a leading UK law firm on its obligations to self report potential misconduct by a partner.
Advising a solicitor who is the subject of an ongoing SRA investigation into his conduct in relation to his conduct of litigation.
Advising a partner at a large accountancy firm on his self-reporting obligations to the Institute of Chartered Accountants for England and Wales, following the commencement of a disciplinary investigation against him in respect of alleged misconduct.
Providing bespoke firm-wide refresher training to a leading immigration law firm on the SRA Code of Conduct and SRA Accounts Rules.
Partnership
At his previous firm, Andrew acted pursuant to a general retainer for a law firm, advising on, among other things, the following:

Advising a partner at the firm and negotiating a regulatory settlement agreement with the SRA, in respect of serious allegations of acting dishonestly and without integrity;
Providing initial advice on the firm's potential conversion to an ABS and the requirement to notify/obtain the SRA's approval in respect of the appointment of non-authorised persons.
Reviewing proposed engagement letters and advising as to whether the proposed arrangements complied with the relevant Conditional Fee/Damages Based Agreement Regulations;
Advising in respect of the firm's entitlement to assert a lien over its files in circumstances where negligence was alleged by the client;
Advising on the firm's obligations to disclose documents to a client's trustee in bankruptcy;
Advising on/drafting a response to the SRA in respect of a complaint made to them about the firm by a third party.