Zulon Begum has extensive experience of advising professional and financial services firms and senior equity partners on a whole range of partnership and corporate matters. Zulon has particular expertise in transactional work and regularly advises senior management in partnership businesses on a broad range of sensitive and strategically important issues.
Zulon acts for clients in diverse sectors, including law firms, accountants, architects, real estate consultants, patent attorneys, insurance/reinsurance brokers/underwriters, private equity houses and hedge funds. She has played a key role in a number of high-profile professional services firm mergers, both national and international.
Zulon's expertise and experience includes:
advising UK and international professional and financial services firms on mergers and acquisitions, including advice on corporate and regulatory structuring;
advising on optimal business structures, considering liability, succession, cultural and regulatory issues and implementing internal restructuring, including conversion to LLP or company;
advising on partnership and remuneration structures for partnership businesses, with in-depth expertise in current market practice;
drafting and reviewing LLP and partnership agreements, including review of governance structures, partner indemnities, discrimination issues, family friendly rights and restrictive covenants;
advising on international network structures using Swiss vereins or limited companies by guarantee, including advice on liability, profit pooling and shared network services;
advising on partner investigations, disciplinaries and exits, as well as lateral hires, team moves and restrictive covenants issues; and
establishing SRA regulated law firms (including Alternative Business Structures).
Zulon is an active member of, and speaker at, the Professional Practices Alliance, (of which CM Murray LLP is a founding member), the Association of Partnership Practitioners, the International Bar Association and the American Bar Association.
Zulon was admitted as a solicitor in England and Wales in September 2009.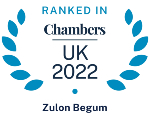 Chambers and Partners UK 2022 ranked Zulon in Band 3 for Partnership (Non-Contentious). "Zulon is confident, knowledgeable and very bright."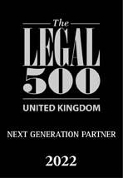 Legal 500 UK 2022 named Zulon a "Next Generation Partner" in Partnership. "Zulon Begum combines a deep understanding of the governance of partnerships with a pragmatic approach to advising them."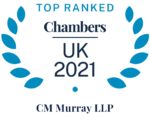 Chambers and Partners UK 2021 ranked Zulon as "Up and Coming" for Partnership (Non-Contentious). She has "provided wise counsel during difficult negotiations, focuses on the needs of her clients and has always been responsive."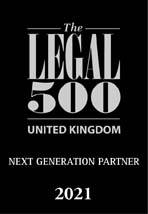 In Legal 500 UK 2021 and Legal 500 UK 2020, Zulon is ranked as a "Next Generation Partner" for Partnership (Non-Contentious).
Chambers and Partners UK 2020 ranked Zulon as "Up and Coming" for Partnership (Non-Contentious). She 'receives high praise from sources, one of whom says: "Her experience and understanding of partnerships makes conversations easy as she starts from a strong base of knowledge – not only of the law but also of general practice and culture, meaning we are more likely to arrive at a solution for the client that works commercially."'
REPUTATION, NOMINATIONS AND AWARDS
"Zulon Begum has assisted us with restructuring our LLP, which for many members is an emotional challenge as much as a legal one. Her experience and empathy with such challenges is first-rate." (Legal 500 UK 2021)
Chambers & Partners UK 2018
"an outstanding rising star" and "very good judgement"
Legal 500 UK 2017
Ranked as a Next Generation Lawyer