Merrill April is a Partner specialising in employment and partnership law. She has developed an international employment law practice which covers both contentious and non-contentious matters and has an excellent reputation for advising both senior executives and employers across a diverse client base, spanning key sectors such as financial services and technology, and consisting of both listed and private companies.
Merrill advises UK PLCs on hires and departures at board level, and on contractual and other issues that arise throughout the employment relationship, including in relation to whistleblowing and data protection. Merrill is instrumental in setting up their employment and HR structures to support their businesses, and she works closely with HR consultants and in-house HR teams, finance directors and in-house lawyers to achieve this objective.
Merrill has a particular interest and experience in the issues that arise over restrictive covenants and bonus litigation when senior individuals move to a competitor. She has expertise in handling Boardroom issues for AIM listed companies and has a specialist knowledge in non-contentious transactional issues.
Merrill's litigator background underpins her knowledge and strategic approach in negotiations and allows her to represent clients in the High Court and in tribunal cases, including advising both employers and senior executives on contentious workplace disputes, high value severance negotiations and managing exits smoothly, and in complex partnership disputes. She has significant experience advising on partner discrimination claims, including for disability, sexual orientation discrimination and age discrimination in the context of retirement. She regularly advises partners on moves between professional accountancy and hedge fund businesses, including the enforcement of garden leave and restrictive covenants.
Merrill is a regular speaker and appears as a broadcast media commentator, most recently on Sky News regarding employment law issues.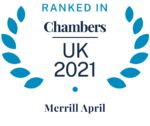 Chambers and Partners UK 2021 ranked Merrill as Band 5 for Employment (Employer). She is noted "for her work advising employers, with expertise handling matters including senior-level departures and day-to-day HR matters. She is also experienced assisting senior executives in their employment matters."
"She's outstanding – extremely knowledgeable, easy to work with and commercially savvy." "She's incredibly high-quality; she does a fantastic job." "She's very perceptive and results-driven."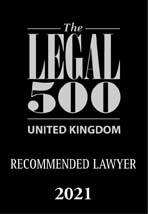 Legal 500 UK 2021 recommended Merrill as a "Key Lawyer" for both Employment (Employer) and Employment (Senior Executive).
Chambers and Partners UK 2020 ranked Merrill in Band 5 for Employment (Employer), "Impressed clients highlight Merrill April for her "empathy, legal knowledge and quick responsiveness." She is noted for her work advising employers on all aspects of employment law, with demonstrable expertise handling matters including whistle-blowing, senior-level departures and day-to-day HR matters."
Legal 500 UK 2020 recognised for both her Employment (Employer) and Employment (Senior Executive) work.
REPUTATION, NOMINATIONS AND AWARDS
fast-thinking, forward-thinking and responsive (Legal 500 UK 2021)
RECENT MATTERS
Negotiating the departure of a senior employee accused of sexual harassment resulting in the largest pay out made by this luxury goods brand.
Representing a very senior executive in a global media company accused of bullying, resulting in the dismissal of the subordinate's grievance.
Advising a trader moving to a competitive business accused of misuse of confidential information, resulting in his being able to move at the end of the garden leave period without being dismissed or suffering any compliance issues.
Advising a senior advertising figure on the negotiation of a multi-million-pound settlement.