LOUISE O'CONNOR
Senior Associate
Louise O'Connor is a Senior Associate specialising in partnership and employment law.
Louise provides contentious and non-contentious employment law advice to clients, and has particular expertise in advising senior executives in professional services. She has significant experience advising senior executives on managing exits and high-value severance negotiations, and cases involving breach of restrictive covenants, discrimination and whistleblowing.
Louise has experience in conducting workplace investigations and regularly advises multinational employer clients across a diverse client base, including the professional services and technology sectors.
Louise provides commentary to print and online media, and writes articles for legal and HR publications.
Louise was admitted as a solicitor in Australia in October 2014.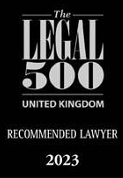 Legal 500 UK 2023 recommended Louise for her Partnership expertise: "Louise O'Connor was highly collaborative and I felt listened to throughout our time working together. She clearly has a depth and breadth of knowledge and experience beyond her PQE, and what impressed me the most was how she was able to deploy that knowledge in a practical way that was highly tailored to the strategic approach for my matter."
"Industrious, extremely bright, emotionally intelligent and strategic in her advice. She's a rising star and no doubt a huge hit with CM Murray's clients."
Legal 500 UK 2022 recommended Louise as a "Key Lawyer" for her Employment (Senior Executives) expertise: "'Strong expertise in both the subject matter and the process of dealing with executive compensation negotiations. You can see right away that this is a team that has long and established experience in this space. Both Merrill April and Louise O'Connor were available, reactive and supportive throughout the work. They were a good source of advice and direction throughout my negotiations."
REPUTATION, NOMINATIONS AND AWARDS
Industrious, extremely bright, emotionally intelligent and strategic in her advice. She's a rising star and no doubt a huge hit with CM Murray's clients. (Legal 500 2023)
RECENT MATTERS
Partnership
Advising an international law firm in relation to an internal investigation involving complex and sensitive allegations of bullying, gender discrimination and whistleblowing complaints.
Advising a Member of an international law firm in relation to his restrictive covenants and his capacity to continue performing work for a key client immediately upon his departure from his firm.
Senior Executive
Advising two long-standing C–Suite executives of a FTSE 100 company on their forced exit from the company, whereby agreeable terms were reached.
Advising a senior executive and partner on her exit from her firm and move to her new firm whilst under investigation for misconduct.
Advising a senior executive in a leading bank in relation to sexual misconduct allegations, whilst taking into consideration the impact on concurrent criminal proceedings and regulatory references.
Advising two employees of the same firm in relation to allegations of breach of restrictive covenants made by their previous employer, and the misuse of confidential information, to ensure injunctive proceedings did not commence.
Advising the partner and co-founder of a multi-million–pound business in relation to a hotly contentious parting of ways between the founding partners. This was a highly complex matter involving numerous partnerships and corporate entities.
Advising a co-founder, shareholder and director of a successful manufacturing business in relation to his co-founder, shareholder and fellow director's breach of duties.
Employer
Advising an international law firm on a complex grievance investigation relating to allegations of disability discrimination and representing the firm in the subsequent employment tribunal proceedings.
Advising a world-leading market development organisation on their HR issues, including allegations of bullying brought against senior members of staff shortly before a proposed restructure.
Representing an employer in the Arts sector in an employment tribunal claim, defending allegations of race discrimination and whistleblowing detriment.